OrganicDataNetwork presentation at the 8th European Organic Congress
( )
Between 10 and 12 September 2014, more than 150 people attended the 8th European Organic Congress (http://organic-congress-ifoameu.org/en).
The Congress, held in Bari at the Mediterranean Agronomic Institute of Bari, Italy, focused on implementing innovative ecological solutions for farmers and rural communities.
Prof. Raffaele Zanoli, coordinator of the EU-funded OrganicDataNetwork project, was invited to speak about "Organic market and trade: what figures don't say".
According to European Statistics Code of Practice of Eurostat, the statistical office of the European Union, market data need to be:
accurate & reliable;
timely & punctual;
coherent & comparable;
easily accessible.
Besides, the resource allocated to data collection should be adequate.
Nevertheless, organic market data currently do not fulfill these criteria. The challenges which the OrganicDataNetwork project is facing are:
Data is incomplete or totally lacking
Lack of common definitions/classifications/aggregation rules across countries
Poor quality of data
The OrganicDataNetwork has produced a specific Code of Practice and a Manual for organic market data collection (OrMaCode). The OrMaCode is intended to help facilitate further progress in the field of organic market data development, production and dissemination in Europe.
However, more efforts and adequate resources are needed in the future, both at EU and at national level.
More information
Contact
Raffaele Zanoli, Università Politecnica delle Marche, Project coordinator
Link
OrganicDataNetwork: Key facts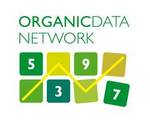 Data network for better European organic market information (OrganicDataNetwork)
Funding: 7th Framework Programme for Research and Technological Development of the European Union
Cordis.lu:Entry in the Cordis Database
Project call identifier: FP7-KBBE-2011-5
Project number: 289376
Duration: 2012-2014
Project leader: Prof. Dr. Raffaele Zanoli, Università Politecnica delle Marche, Ancona, Italy
URLwww.organicdatanetwork.net