Latest OrganicDataNetwork newsletter online
The latest edition of the newsletter of the project "Data network for better European organic market information" (OrganicDataNetwork) is now online.
( )
The newsletter contains an editorial by project coordinator Raffaele Zanoli as well as reports from the second OrganicDataNetwork workshop in July and the fifth project meeting in May this year.
Further themes are: checking organic market data for inconsistencies, the OrganicDataNetwork case studies, the results of the UK producer survey, European market data from 2012, as well as news.
The OrganicDataNetwork will be presenting results at the IFOAM Organic World Congress in Istanbul, and a workshop on organic market data collection and publication procedures will be held on October 15.
More information
OrganicDataNetwork: Key facts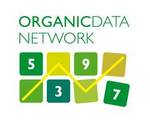 Data network for better European organic market information (OrganicDataNetwork)
Funding: 7th Framework Programme for Research and Technological Development of the European Union
Cordis.lu:Entry in the Cordis Database
Project call identifier: FP7-KBBE-2011-5
Project number: 289376
Duration: 2012-2014
Project leader: Prof. Dr. Raffaele Zanoli, Università Politecnica delle Marche, Ancona, Italy
URLwww.organicdatanetwork.net
OrganicDataNetwork newsletter