UK: Soil Association 2014 Organic Market Report reveals growth in organic sales for the first time in four years
The Soil Association's annual Organic Market Report reveals that the organic sector has seen growth of 2.8% in 2013: the first time the organic market has seen annual growth since 2008.
( )
Organic sales are growing slightly ahead of the overall grocery sales for 2013, which finished the year at around +2.1%. The 2014 Organic Market Report shows that the organic market is now worth £1.79 billion British pounds (approximately 2.1 billion euros; 1 Britsh pound = 0.84926 euros; average exchange rate 2013 according to the central Euroepan bank).
It seems this trend is set to continue in 2014, with organic sales for the first four weeks of the year seeing growth of +2.5% - way outperforming overall grocery sales, which were down -3.2%.

Independent retailers have led the way with growth of almost 7% (6.9%) to almost £10million per week, indicating that more consumers are choosing to shop in smaller stores where they know they will find a wider choice of organic products. Online sales of organic continue to grow strongly with Ocado seeing an increase in sales of 10.4%. Supermarkets have seen some growth in the past year, with overall sales up 1.2%. However, Sainsbury's – the country's biggest organic retailer with 29% market share – saw a 7% increase in sales of its own-label organic products, closely followed by Waitrose who saw its organic sales increase by 6.5% – indicating other supermarkets are yet to capitalise on increasing consumer demand for organic.
Key findings of the Soil Association 2014 Organic Market Report:
Steady growth
Sales of organic products in the UK grew by 2.8% in 2013
The UK organic market is now worth £1.79billion in sales
The rate of growth was above the annual inflation rate of 2%
Growth has been particularly strong in the dairy sector (+4.4%): organic milk sales grew by 5% and yoghurt sales by 7%
Sales of organic vegetables increased by 3.4%, while meat, fish and poultry sales grew by 2.2%
Independent retailers
Sales through independent retailers increased by 6.9% to nearly £10million a week – their highest level since 2008
Sales through box-schemes, independent online shops and other home-delivery outlets increased by 11%
Multiple retailers
Supermarket sales grew by 1.2% - the first increase since 2009
The strongest growth was seen by Ocado (+10.4%) and Waitrose (+6.5%). Sainsbury's is the UK's biggest organic retailer, with sales of its own-label organic range up 7%
Catering
Catering and restaurant sales rose by 10%, thanks to the success of the Soil Association's Food for Life Catering Mark and demand from high-street chains, such as McDonald's and Pret A Manger, for organic milk, tea and coffee
Health and beauty
Sales of organic health and beauty products grew by 17% in 2013 to £37.2 million
The number of Soil Association symbol holders increased by 12.5% to 135
Textiles
The UK's leading certifier of organic products to Global Organic Textile Standard (GOTS), saw the turnover of its 73 textile symbol holders increase by 36% in 2013
Much of this growth was export-led, but the UK market for organic cotton is estimated to have grown by around 10%
Farming
Defra reports that producer and livestock numbers and the UK's organic land area decreased in the year to December 2012 – the most recent period for which UK-wide data are available
In July 2013 the UK's organic land area was reported to be 606,000 hectares (based on Defra data to the end of 2012)
The area of land under organic management is greater than the combined areas of Oxfordshire, Buckinghamshire and Berkshire, and constitutes 3.5% of the agricultural land area
Numbers of organic producers and processors fell by 6.3% to 6,487
Source: Soil Association press release of March 13, 2014:Soil Association 2014 Organic Market Report reveals growth in organic sales for the first time in four years, The Soil Association Website
More information
Contact
Martin Cottingham, UK
Link
Download
OrganicDataNetwork: Key facts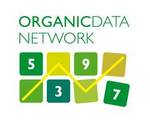 Data network for better European organic market information (OrganicDataNetwork)
Funding: 7th Framework Programme for Research and Technological Development of the European Union
Cordis.lu:Entry in the Cordis Database
Project call identifier: FP7-KBBE-2011-5
Project number: 289376
Duration: 2012-2014
Project leader: Prof. Dr. Raffaele Zanoli, Università Politecnica delle Marche, Ancona, Italy
URLwww.organicdatanetwork.net
Organic farming in the UK